Lady Gaga says she has PTSD after being raped at 19
---
US pop star Lady Gaga says she has been suffering from post-traumatic stress disorder (PTSD) since being raped at the age of 19.
She revealed her mental illness during a visit to a homeless shelter for young LGBT people last month. In a TV interview about the visit, she said: "I suffer from a mental illness - I suffer from PTSD. I've never told anyone that before."
Lady Gaga, now 30, first spoke publicly about the rape two years ago.
She has since admitted she blamed herself and did not tell anyone about it for seven years. 'Deepest secrets'
Her interview with the Today Show, which was broadcast on NBC on Monday, is the first time she has talked about having PTSD.
During her visit to the Ali Forney Centre in New York, she told the homeless lesbian, gay, bisexual and transgender teenagers that her trauma helped her understand others.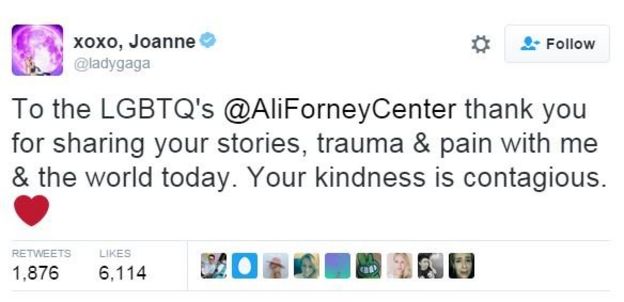 "The kindness that's been shown to me, by doctors as well as my family and my friends, it's really saved my life," the singer said, after bringing presents to the astonished teenagers at the centre.
"Meditation helps me to calm down," she said, adding that she was struggling with her mental illness "every day".
Lady Gaga later tweeted: "Today I shared one my deepest secrets w/ the world. Secrets keep you sick w/ shame."
A tearful young person from the centre she visited said: "Lady Gaga's act of kindness today was a reminder that love still exists - and that there's still some for me."
On social media, her fans opened up with their own experiences in response.
"I remember how your music and your spirit got me through really hard times," one user tweeted back to the singer. "Now I'm 1723 days self-harm free."
"I have something to tell you. I also suffer from PTSD. This is the first time I say it too. I love you and I admire you so much," another replied.